"Do you know anywhere I can go to find recovery AND Jesus?"
Carlo almost died alone in a ditch from his addiction. He entered a recovery program that told him to choose…. recovery or Jesus. He was discouraged and isolated when he found our addiction recovery program at Gospel Rescue Mission. He now has hope, and a community of fellow believers who encourage him in both his faith and his sobriety. 
The sun came up on that first Easter Sunday, some 2,000 years ago, and something amazing happened. Jesus walked out of the tomb, that place of emptiness and grief. Alive. Powerful. Conquering death and the grave.
From that day on, people's lives have been changed by that single amazing event.
People's lives are still being changed by the Resurrection, even today. We see it every day, here at Gospel Rescue Mission. We saw it happen to Carlo….
He was deeply addicted, homeless, barely surviving in an arroyo off 22nd Street.
"I was drinking so much I had basically given up on myself."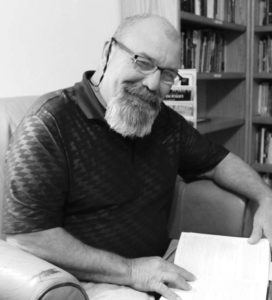 His body was giving up too. The day soon came when he felt a slashing pain across his chest.
Waking up in the hospital, Carlo realized he had been given an Opportunity for New Beginnings. "Something came over me and I realized I wanted to live."
He could have died in the dirt, a homeless heart attack victim — but by a miracle of God's grace, the sun came up the next morning, and Carlo was still alive.
Carlo prayed what might be called an "Easter prayer." He cried out to God for a resurrection.
When he got out of the hospital, he checked himself into a local recovery program. They kicked him out. Why? Because during group counseling sessions, as participants shared their life stories, he refused to leave Jesus out of his testimony!
He was all alone once again. But something was different. He had tasted new life — and he refused to give up. He called an old friend.
"Do you know anywhere I can go to find recovery AND Jesus?" Carlo asked. Carlo didn't know his friend was a volunteer here at Gospel Rescue Mission. He pointed Carlo in our direction,and we had the joy of opening our doors to him back in November.
I often think about the day Carlo arrived and I can't help but smile. "Are you all going to have a problem with me mentioning Jesus?" he demanded. "'Cause He's saving me right now!" We were okay with that!
It began with a hearty meal. It grew into a whole Opportunity for New Beginnings. Carlo blossomed. He has a beautiful, God-given joy today. And he's a hard worker. "Mopping the floors or serving in the kitchen, it gives me great joy to serve the people here. This is my family now…. I've never been so loved."
His difficult past can't be changed, but it's no longer the millstone it was. "I don't have to be ashamed — because I'm not that person anymore. This place has changed me. I look at it as a new beginning. Gospel Rescue Mission has given me my life back."
God is at work in Carlo … and you're making it possible, through your generous support of the Mission. Thanks to you, we're providing the practical care that Carlo and so many others need. "They've made sure I got to every doctor's appointment, that I had clean clothes, that I can take a shower. I don't have to dig out of dumpsters anymore!"
As you read these words, Carlo is recovering. He's sober. He's loving life. He's one reason we've declared 2019 to be the "Year of Opportunity." This is going to be a beautiful Easter for Carlo, and for the dozens of other men and women who are finding new life here.
Please be as generous as possible. The new Center of Opportunity will be opening soon, greatly expanding our ability to serve meals: We need your help to make sure we don't miss a single opportunity to see a life transformed by God's love. Thank you in advance. God bless you!
Ø I invite you to help us welcome someone else in need, someone like Carlo, during this Easter season. Every $2.05 you give today will provide not only a nutritious meal, but a chance at an Opportunity for New Beginnings — or as Carlo puts it, "recovery AND Jesus!"
Yours in Christ,
Roy E. Tullgren III
Executive Director
P.S.      They wanted Carlo to choose between Jesus and recovery. At Gospel Rescue Mission, Jesus IS recovery. Easter is all about new life. Your Easter gift today will share God's love with someone who feels their life is over: an Opportunity for New Beginnings! Let it start with a meal. Let it grow into new life!
P.P.S.  Don't forget, every gift you send to Gospel Rescue Mission also qualifies for the AZ Charitable Tax Credit. You give and you get it back – up to $400 or $880 depending on how you file. There's still time to claim new gifts on your 2018 taxes!