"Living off of napkins and paper towels out of Circle K bathrooms…. Trying to call washes and tunnels your home, it starts to wear on you. Wears on your health, your mental stability. You start to hate everybody."
Joseph came to the Gospel Rescue Mission to escape the heat, but found hope through a relationship with Jesus. 
Escape. That was Joseph's goal. Escape the Ohio winters. Escape his past — the lost job, the divorce, and the homelessness.
To do it, he headed out of town on the first bus traveling west. It was three and a half days before he asked, "Where are we?" When the driver replied, "Tucson." Joseph stepped out into the warm sunshine to get a look at his new home.
He had no idea how warm it was about to get.
Things were smooth for a while. He found a job, a place to live, a girlfriend. But it didn't last. He got in a fight — was charged with assault — lost his job. Soon, he was homeless again.
Only now he was homeless in Tucson. Totally unprepared for the heat. Tucson summers can kill. The numbers are horrifying:
4 – That's how many liters of water your body can lose in a single hour in the Arizona heat. You get faint, you black out, and if nobody intervenes, you die.
15 – That's how many minutes in the sun it takes to be felled by heat stroke — resulting in brain damage, heart damage, kidney damage — or death.
158 – That's how many degrees Fahrenheit the sidewalk gets.
2000 – That's how many children and adults will be rushed to emergency rooms this year, sick from the heat.
130 – That's how many die, on average, every year in Arizona — from the heat.
Joseph could have easily been one of them. "Miserable" is how he remembers summers on the streets. He tried desperately to find shady
places. He often tried to build a little tent out of sticks and pieces of tarp. Sometimes he burrowed into bushes. Anything to stay cool enough
to survive.
But it was hardly a life. "Living off of napkins and paper towels out of Circle K bathrooms…. Trying to call washes and tunnels
your home, it starts to wear on you. Wears on your health, your mental stability. You start to hate everybody."
Then he found hope here at Gospel Rescue Mission. Our theme this month is "The Opportunity to Bring Hope" — and Joseph became
a living picture of it!
He heard from others about a place he could go to escape the heat and get a hearty meal. At first, he wasn't interested in our recovery program — "I was the kind of guy that didn't like following the rules," he says today — and he certainly wasn't interested in knowing God. "I didn't need Jesus telling me what to do either!" he remembers.
But he kept returning to the Mission … and it wasn't just for the food or shelter. There was something else … another reason, that he couldn't quite understand. "Something kept pulling me back, over and over," he says.
Finally — the fifth time Joseph walked through our doors — something clicked. "I literally almost felt God push me to the chapel!" he says. "I didn't know Jesus — in fact, I actively avoided Him. But this time, I was like a sponge, absorbing everything!"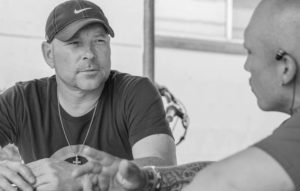 That's when Joseph found what he was missing. In our recovery program, by the power of God's love, he broke free from his bondage to drugs. He plugged in as a hard-working volunteer, painting walls, cleaning floors and moving furniture. "I started to realize, I'm repairable," he says — and before long, he was a new creation in Christ.
We're happy to announce that Joseph will be part of the very first graduating class at our new Center of Opportunity.
He's excited and hopes to help out in the new professional kitchen and learn alongside our new Executive Chef, Michael Veres.
With that kind of experience on his résumé, he plans to pursue a career in the food service industry.
Joseph is a great example of what happens when you seize "The Opportunity to Bring Hope."
And this is why I'm writing to you today — because we need you to help us keep bringing hope to people like Joseph … people who could suffer and die on our streets this summer if we don't rescue them.
The Center of Opportunity is Open to the Public as of June 3rd! With your help today, the new Center of Opportunity will offer emergency shelter and program recovery for up to 250 men (up from 55), and 100 additional emergency shelter beds are available for women, women with children, single fathers with children, and other special need populations we haven't been able to provide shelter to before.
It only takes $2.05 to offer a good meal with a cool drink for someone in desperate straits. How generous could you be? How many lives can you save? I hope you'll be extra-generous today. People are at terrible risk in the Arizona heat. We need you. They need us.
I hope to hear from you soon. Thank you for whatever you can give today!
Yours in Christ,
Roy E. Tullgren III
Executive Director
P.S. "The Gospel Rescue Mission opened up to me," Joseph says. "They put their arms out, showed me a lot of love and everything started to change." That's hope. We have the opportunity to bring hope to 250 more men every night at the Center of Opportunity – but it doesn't happen without the prayers and support of friends like you. God has given us an open door. Let's use it to transform lives, and our city, together!