"I was told my rights would be severed. I felt like there was no hope and no chance."
Peggy lost her children when the Department of Child Safety discovered her children had been abused by her ex-husband. Because of her social anxiety and depression, DCS didn't feel she was capable of caring for them either. Her children landed in foster care and Peggy ended up homeless at the Gospel Rescue Mission, praying for a miracle.
A
Mother's Day
miracle!
When they took her children, her life was over. Or that was what it felt like. 
It seemed like Mother's Day would be a day of grief and pain. Peggy's depression was so deep, she could hardly imagine ever functioning again. It began when she learned that someone she was close to had horribly abused the children. I don't want to be more specific than that — it's too terrible to describe. 
Working with the authorities was hard for Peggy. She wasn't comfortable talking. "I didn't make eye contact," she remembers. They decided she must be "low-functioning." Peggy, they figured, didn't have the "mental capacity" to raise her seven children. 
So they took them all away. And Peggy began to spiral. "It was a week before I realized I hadn't eaten anything," she says. 
She got evicted. She became homeless. For months, she couch-surfed. But things were about to get even worse. 

The judge on the case decided to start the process of permanently severing her parental rights … to take her children away from her forever.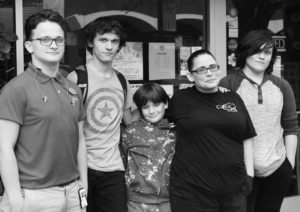 This might have been the tragic end of the story — and the end of Peggy. But you and God helped save this family — through your generous support of Gospel Rescue Mission — it's not something any of us could have done alone, we serve better together. Together, we gave Mother's Day back to Peggy. 
A friend suggested she turn to the Mission for help — and our Child Family Team recognized immediately that Peggy could be an awesome mom. She had simply suffered a tragic string of setbacks. She needed help. 
We welcomed Peggy into our recovery program. By her next court hearing, our team had persuaded to ask for a delay on the case — to let Peggy keep her parental rights awhile longer, until she had time to finish the recovery process. 
"I can't make these kids hold on forever while you try to improve yourself," the judge grumped, "but I am going to entertain because they asked for an extension based on this recovery program." Still, he warned, at her next court appearance, he fully expected to initiate the severing of her parental rights. 
Peggy worked hard. Over the next months, through countless counseling sessions, with the help of our staff, she built up her self-esteem. For the first time ever, she began to speak and dress with confidence. She had always hidden herself inside XXXXL-sized men's clothing; but no more. She was finally coming out of her shell. 
Still, on her hearing day, she expected to lose her children. But in that courtroom, with our team standing by, both Peggy and the judge were in for a surprise. 
Her transformation was so complete — the judge was so astonished — that he reversed his decision! 
"It was a miracle!" Peggy says today. Within a month, two of her children had returned. Then, on Mother's Day, her two youngest came back to her. Before long, the whole family was reunited! 
Peggy has graduated from our recovery program. Living in our transitional housing, she looked for a job. Today, she's working and has her own place, joyfully raising her youngest children. Two of her oldest have moved out to start their own lives! 
That's what happens when we serve together. Your generosity offered real hope — and practical help. "Gospel Rescue Mission was with me," Peggy says. "I remember that Mother's Day, and how much GRM was celebrating with me — like their family was coming home too!" 
But other moms — lots of moms, right here in the Tucson area — need help this Mother's Day. Their families are struggling. They need someone to care, someone to reach out and offer real hope and help. You can be there for them — through your support of Gospel Rescue Mission. 
We serve better together. Please rescue another family in need, by giving a generous "Mother's Day" gift today. Thank you in advance! God bless you! 
Yours in Christ, 
Roy E. Tullgren III
Executive Director 
P.S. Little Micah was only 3 when he was returned to his mom. "He ran to me and held on to me so tight!" she remembers. Your love made this moment possible. Please help it happen again, by giving generously today. The new Center of Opportunity will increase our capacity to help women and children by an additional 50 beds.