From the Streets to the BOARD
"I believe in the Mission and I want to give back what was given to me."
"I went to the bar that night, then to the casino. I won some money and all I could think was, 'Now if I could just get some drugs,'" Sherry remembers with tears, thinking about that night. "That run lasted two years. My husband divorced me. I went in and out of recovery after that. I found some good jobs; I just couldn't keep them. I would relapse."
After losing her last job for refusing a drug test, Sherry lost what little she had left.
"I lost my car and my apartment, so I started running with drug dealers and addicts full time. I was on the streets. I was in and out of motels. I was exposed to violent crimes, prostitution, rapes… abortions," the last word she speaks hardly above a whisper. She pauses, then continues. "I was pushing around my belongings in a grocery cart, looking for somewhere safe to sleep. Then, in 2006, I find myself living across the street from Bethany House."
On Miracle Mile, it was Gospel Rescue Mission's first standalone women's shelter before we opened our current Women's Recovery Center just down the street.
"I was in a toxic relationship at the time. My boyfriend tells me I have to leave the motel room we're staying in. So I call the Bethany House and they tell me they're full. I began to cry. I told them, 'You don't understand, I don't have anywhere to go!"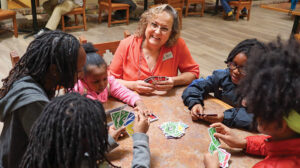 She didn't give up.
"I called again the next day and there was a bed! So I started to pack. As I'm doing it, my boyfriend tells me I can stay when he gets back from work. After he left the motel room and shut the door, I heard a different voice. It said, 'Are you going to go through the door that I opened?'"
Thankfully, she did.
"For 10 years I was an absent mother, wife, sister, aunt, daughter… shame, guilt, and doubt told me I would never be anything besides an addict… but then I was introduced to Jesus at the Bethany House. There I learned that the Holy Spirit was my best friend, that I'm a new creation in Christ; my sins have been forgiven."
Here she found the tools she needed to become free from her addiction, to start life over, and begin repairing her relationship with her family.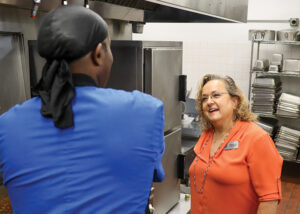 "Once I went into the mission, I started reunification. When I left my family, I had a 7-year-old daughter, a 10-year-old son, and a 17-year-old daughter. Now I had a 17-year-old daughter, a 20-year-old son, and a 27-year-old daughter. I had been through recovery before, but this was different. They could see I was a different mom."
She was more than different; she was transformed. In fact, Sherry is currently celebrating her 14th year of sobriety! After graduating from the recovery program, she returned to give back as an employee in our Community Ministries Department. But that wasn't all.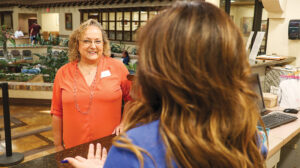 She went back to school, became a foster parent, and earned her Bachelor's degree. Not long after, she received a special phone call from Roy Tullgren, our former Executive Director.
"The Gospel Rescue Mission Board was praying for new members and Roy called me up one day and said that he heard from God loud and clear that the next new member they were looking for was Sherry. He told me he had to clarify what he heard," she laughs. "He asked God, 'Sherry Clark?' And he got a yes."
Today, Sherry is the first Board Member at the Mission who has been through the recovery program.
"I love it. I love the Mission. I still attend chapel there with my church, Faith Christian Fellowship of Tucson. I sponsor ladies in recovery; I'm very involved. I believe in the Mission and I want to give back what was given to me. When I was asked to join the Board of Directors, I knew that was what God wanted me to do."
From the streets to the Board of the foremost homeless outreach organization in Tucson, that's the power of transformation! It's the same power your support helps give each and every man, woman, and child who steps through our doors.
Even in uncertain times like these, the work goes on. Thank you for keeping transformation moving forward in Tucson!