I'm sure you know the feeling … You're "up" one moment, and then — without warning — you're "down." Life comes crashing in.
For Chris and Rebekkah, and their 8 children, it was the roof that came crashing in.
Their life had been so joyful. Ten years of contented married life. Chris studying to be a pharmacist. Rebekkah working in the insurance industry. Happy, healthy kids — 10, 7, 6, 5, 4, 3, and 2-year-old twins!
To celebrate their 10th anniversary in August, Chris and Rebekkah decided to take the whole family on a vacation. They all had a blast!
But meanwhile, back here in Tucson, there was a blast of another sort. A devastating blast. The monsoons came roaring in. When the family got home — well, the place they called "home" was gone.
The storms had caved the roof in. Torrential downpours had flooded the entire place. Watermarks on the walls showed how high the waters had risen. The shock was overwhelming.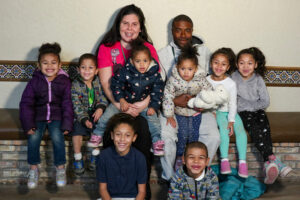 Suddenly, they were homeless.
"Everything was damaged from the storm," Chris says. Beds, furniture — even clothing inside dresser drawers. "We lost a lot of personal items that we can't get back. We had renter's insurance, but it didn't cover everything. We were heartbroken — and we didn't have anywhere to go."
Chris had no living relatives; Rebekkah had only her mother, who was dying. "We're all we have," Chris says.
They couldn't find a place that would take such a large family. They were forced to split up — four kids with Dad, four with Mom. Affordable motels with available rooms were almost impossible to find. The two halves of the family had to go across town in opposite directions. Finally, after seemingly endless days and nights of stress, they found a place where they could all be together — but it was painfully expensive.
"We were trying to keep everyone fed," Chris says. With no way to cook reasonably priced groceries, they lived on microwavable food from Dollar Tree.
Now the calendar began to work against them — it was back-to-school time. The school-age children had no school clothes — they had all been irretrievably damaged by the storm. "We looked for clothing drives," Chris remembers, but all the back-to-school stuff was gone. Finally, they pulled the children out of their school and enrolled them in a school that required uniforms. "When the kids went to sleep each night, we could wash the uniforms for the next day."
Rebekkah went back to work; Chris dropped out of school to watch the youngest kids. Day by day, as they paid for their hotel rooms, they watched their meager financial resources draining away. "The money was running out," Chris says.
On Day 15, they were too broke to cover their motel bill. They had called all over the area, but nobody could take them in. "We didn't know where we were going to go," Chris says — and they were worried about DCS, the Dept. of Child Safety, taking their children away.
This story could have ended tragically. But your compassion, your generosity, rewrote the ending.
Thanks to your faithful support for Gospel Rescue Mission, we were able to welcome them warmly. They were overjoyed! "This place doesn't seem like a shelter," Chris says. "The younger ones think we're at an apartment complex!"
We happily provided clothing and other necessities for the whole family. Meanwhile, they've just moved into a new place. Chris looks forward to getting back to school. Rebekkah, in addition to her work in insurance, plans to go to law school.
But life will come crashing in on another family like Chris and Rebekkah's tomorrow — in fact, a family of 13 just moved in the other day and they and others will need help urgently. Please help us be here for them. We need you — because they need us. I need you to give absolutely as generously as you can today.
(And if you haven't yet taken advantage of the Arizona Charitable Tax Credit, there's still time. You can give a tax-credit gift today and apply it to your 2019 taxes.)
With your strong support right now, when that next shell-shocked family shows up at our door, we'll be able to say, "Welcome home." On their behalf, thank you!
Thanking God for you,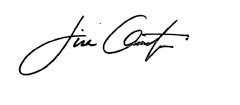 Lisa Chastain
Executive Director
P.S. A meal for someone who's hungry … clothing for someone living in tatters … shelter for a family who's never been homeless … So many in our area find themselves blindsided by life, and struggling. But you can share the love of the heavenly Father with them, through your gift today. Thank you again for your response of Christ-like compassion!