Ever wonder what fuels the fire in the hearts of our staff for the homeless and hurting? Starting this month, we'll be introducing you to the outstanding men and women who work tirelessly to see lives transformed – to get a peek into what brought them to the Mission and what keeps them going.
Joseph Adler has little trouble identifying with the men and women we serve. He's survived many of the same issues they're currently experiencing.
"Over the years, I've been homeless. I've been addicted. I've experienced trauma. I've even been to psych wards because I thought I was crazy."
But everything changed for Joseph the day he was introduced to the Bible.
"I was homeless, sitting on a park bench, and convincing myself that this was my lot in life. That's when a man walked up to me and said, 'I don't know what you're looking at, but this is what you're looking for.' He handed me a Bible. But that wasn't all. He would come by each week and teach me the Word of God."
In just four years, Joseph went from being homeless and addicted, to sober and seeking ways to help others through ministry. He became a General Service Representative for Alcoholics Anonymous.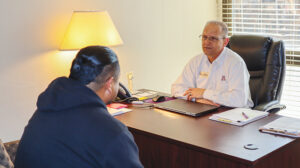 He started a life recovery group to guide others to the hope he found. He became a Certified Recovery Support Specialist and went to work for the Crisis Response Center, and started preaching twice a month at Gospel Rescue Mission.
Then he got a tap on the shoulder from Someone higher up.
"I got home from work one day and there was an envelope from GRM. It was a card with a picture of a hotel on it and I literally heard the voice of God say, 'I want you here.' I immediately put the card back in the envelope and said, 'Woah, what the heck? What are you talking about, Lord?' I opened it up again and it was an invitation to the building dedication for the Center of Opportunity."
Joseph visited our website and found an opening for a case manager position. He applied, and within a week, he was hired. Today, he has been promoted to one of our Center Directors and he does amazing work.
"When I look back, I see the hand of God. He's prepared me for this my whole life. All along the way, there were people who helped me and never expected anything back. I owe my life to those people. And now I am one of them. I absolutely love it. It's not like a job to me. I get to help people realize you don't have to live this way; there is help for you."