Dennis Barreras
"What really interested me was the opportunity to work with the least, the last, and the lost… folks who were really down and out and in need."
Dennis Barreras has served at Gospel Rescue Mission for a long time. He joined the staff in 1997 and served as chaplain and counselor for our recovery program. In 2002, when he became a full-time pastor at Harvest Center Christian Church, he continued as a volunteer. So what keeps a man coming back to serve others week after week for 23 years?
It's because Dennis has been there. He's walked in their shoes. You would never guess by looking at him today, but Dennis knows what it is to battle addiction.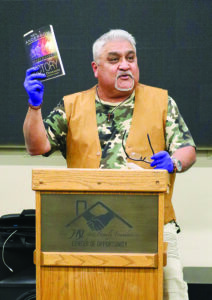 "I moved to Seattle for a while and got a job with Boeing Aerospace working on fuselages. I was living a rock and roll lifestyle – drinking and using drugs. Then I got home from work one day and my ex-wife was gone. So was my furniture. I found a bottle of whiskey, sat on the floor, and started drinking. I had lost everything."
Not knowing what else to do, Dennis reached out to the only hope he had left.
"I cried out to God, 'If you are who you say you are, do something with this mess that I've made of my life.' I fell asleep and woke up the next day with the understanding that I had to start going to church. Suddenly, I had a deep hunger for the Word of God. People saw an incredible change in me. I started buying Bibles and handing them out at Boeing. This was the guy who sometimes showed up to the shop drunk!"
Feeling led by God, he headed back to Tucson looking for an opportunity to serve. When a pastor friend pointed him to Gospel Rescue Mission, he knew he'd found the right place.
"I believe in divine connections. God is constantly working to connect us with people, to work through us, to speak to them and minister to them. And the Mission is one of the best places to find that divine connection between those who want to serve and those who need to be served."
Dennis isn't the only one in his family who has found this "divine connection." Both his wife, Mary Ellen, and his cousin Erin have also worked for the Mission for many years!
"The opportunities are here for the taking – to meet the need. Whether it's physical, handing out blessing bags, or spiritual, teaching classes in the recovery program, God's laid it on my heart to keep reaching out."