Hunger.
It's something that doesn't need an explanation. We all know what it means to be hungry.
Or do we?
How many of us have gone days without a steady meal? How about weeks? Months? The truth is, few of us have ever known real hunger – the pain of not knowing where your next meal is coming from… and the pain that robs you of the ability to concentrate on anything else, such as self-improvement.
But last year, 179,988 more households in our state felt this kind of hunger for the first time.
This year, our goal is to keep as many families and individuals as possible from experiencing that pain. Together, we can do better – starting with Thanksgiving Blessings to Go!
The numbers are in, and they're quite alarming. The percentage of food-insecure households in Arizona rose from 25% to a staggering 32% between March and August of 2020. According to the U.S. Census Bureau, that's a total of 822,805 households that didn't know where their next meal is coming from.
Now one year later, we're still dealing with COVID-19 and its variants, a climbing unemployment rate, and now a supply chain crisis. If there was ever a time Tucson needed some blessings – it's now!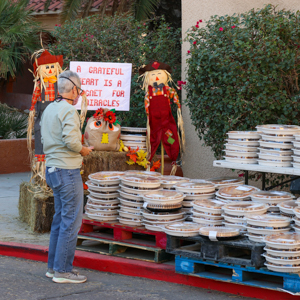 With your help, Gospel Rescue Mission will provide as many meals as possible at our Thanksgiving Blessings to Go event on November 24th.
To keep everyone safe, we're hosting our annual Thanksgiving banquet "drive-thru style," inviting anyone who needs food, a resource box with hygiene products and non-perishable food, or even just someone to pray with, to line up and be served.
Last year, those who came early looking for hope and a delicious Thanksgiving meal formed a line that stretched nearly a mile long!
While waiting in that line, Alfred had this to say, "It's a stressful time. The pandemic has caused lots of hardship. It's a blessing that we can come here and receive help!"
Katie, another grateful recipient of your love, told us,
"We thought everything was okay a few months ago. Now, we are where we are — but we're going to make it through, thanks to people like you. Thank you so much!"
This year we'll be serving more individuals like Alfred and Katie than ever before.
You may be thinking, "This is great, but how does a meal and a food box last anyone more than a week? Is this just a band-aid on a larger issue?" Sometimes, time is all someone needs to make ends meet.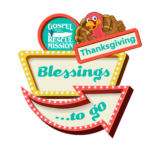 Helping a family with a week's worth of food could not only give them the encouragement they need to hold on for that job offer they've been waiting for, but also help them make this month's rent or mortgage payment, or catch up on utilities.
Of course, it's not just food and supplies we're handing out. The goal for this event is to connect as many hurting families and individuals as possible to the vast array of life-changing resources, services, and programs that you make possible.
Here, families and individuals alike can find access to healthcare, employment help, housing assistance, addiction recovery services; help to obtain IDs, birth certificates, food stamps, bus passes; and more – everything necessary to get someone back on their feet, no matter their situation.
The fact that we're able to offer these life-changing services, free of- charge is truly an amazing thing! And that's a testament to the power of your generosity.
We don't take government funds – they often come with strings attached. To protect the faith-based nature of this ministry, we rely totally on the generosity of partners like you who share our heart for the hurting and homeless in our community.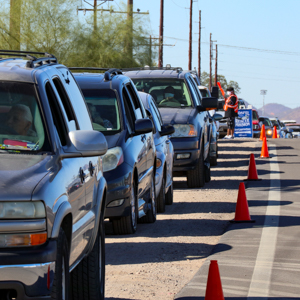 It's the grace of God and your astonishing compassion that will give real hope to thousands this Thanksgiving at Thanksgiving Blessings to Go.
Thank you for the support that makes truly transformational events like this possible!
It really is! The fact that we're able to serve thousands of meals in a single day to a hungry and hurting community is nothing short of amazing. Yet, God makes it happen every year through the prayers and faithful support of friends like you.
Of course, there are other avenues – millions of dollars offered by government programs that could help feed many more. But to accept those funds would restrict who we can serve, what we can serve, and worst of all, how we serve.
That's a compromise we will never make.
After all, what is a Thanksgiving that doesn't welcome all, that doesn't include prayer or fails to acknowledge the One who makes all we can be thankful for, possible? Thanks to your support, that's a choice we never have to choose.
On behalf of all the families and individuals, we will serve during Thanksgiving Blessings to Go, thank you for being the miracle our community needs this holiday season.
Thanking God for you,
Lisa Chastain
Chief Executive Officer