Our God is the God of second chances. If He wasn't, Ryan wouldn't be the leader he is today.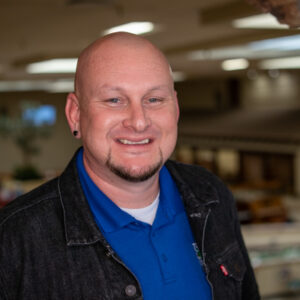 "My wife and I ran a small church organization. I made some mistakes and we had to walk away from it. Then I moved my family to Oklahoma to get back on track."
That's when the real trouble started.
"Every plan we made in Oklahoma fell through. Jobs disappeared; cars broke down. We ended up being homeless for a little while. Our family was couch surfing at peoples' homes that we didn't know. When we finally got into a house, it was infested with rodents and bugs. Every time it rained, it flooded. We found out later that the water was actually sewage water from a broken pipeline under the house. It was truly a nightmare."
Clearly, something needed to change.
That's when they got a call from Gospel Rescue Mission.
"My wife left a position at Gospel when we moved to Oklahoma, but stayed in contact. When she heard about the Center of Opportunity opening and that there was an opening here for her, we knew it was a God thing. He was calling us back home."
Both Ryan and his wife joined GRM as Guest Advocates right away. They thrived here and a few months later Ryan was promoted to Guest Advocate Coordinator. Today he's become our Director of Shelter Program, overseeing Guest Services, Children's Services, Education, and our Guest Advocate Department.
Ryan's story is another example of how your support makes second chances possible – for guests and staff alike.
"I love it! I love what I do and I love the people I work with. I try to meet and personally know something about all of our guests. My ordeal pales in comparison to what many of them have been through but we're always able to find common ground. I love being able to serve again!"