Hunger in our community is on the rise and, with your support, Gospel Rescue Mission is there to stand in the gap!
It was truly amazing to see – the line of cars waiting for Thanksgiving Blessings to Go this year was even longer than last, stretching through the H.S. Lopez Family Foundation Center of Opportunity and down the street for nearly a mile! 
And thanks to friends like you, we were able to serve each and every one of them with full holiday meals – turkey, stuffing, mashed potatoes and gravy, even cranberry sauce!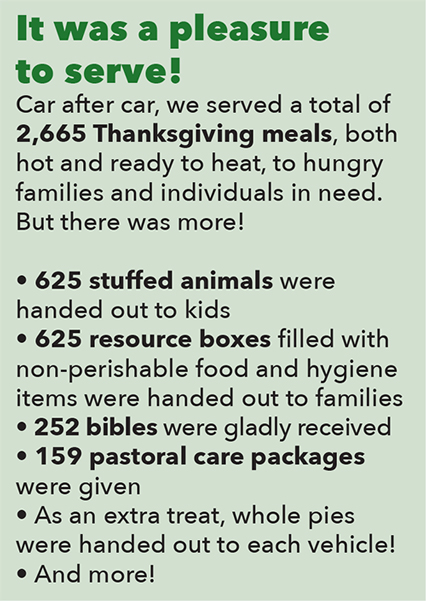 Of course, it wouldn't be Thanksgiving without an opportunity for prayer. A turnout area was set aside to give families and individuals the time and space to share struggles, to ask for divine intervention, and to give thanks to the loving God who made this day possible. Nearly 64% of vehicles opted to spend this time in prayer.
A big THANK YOU goes to you and to the 450 volunteers who made Thanksgiving Blessings to Go a huge success once again. None of this is possible without the prayers, love, and support you give. God bless you for giving hope and help in Tucson when it's needed most!
Virus variants, a supply chain crisis, workforce challenges – who could have predicted the way 2021 turned out? 
But through it all, God was there, providing all we needed, and making a way for the individuals and families we serve.
Your prayers and your support were vital to keeping the love and hope flowing during another unpredictable year. Together we served more than 157,570 meals, we saw 102 lives totally transformed through recovery, helped 332 individuals find housing, and helped add 392 hard-working men and women to the workforce.  
2021 saw us come together to offer those in need more than a meal – to care for men, women, and children on the brink; to restore their mind, body, and spirit; and grow stronger together.
To that end, we've got some exciting developments on the horizon that will allow us to serve in exciting new ways. I'll have more information for you over the next few months. I can't wait to share them with you! 
But for now, I just want to say THANK YOU for the time, treasure, and talent you've given this year that has touched and transformed so many lives.
I'm excited to see what God has in store for us in 2022. On behalf of all of us here at Gospel Rescue Mission, I wish you and yours a blessed Christmas and a prosperous New Year!
Thanking God for you,
Lisa Chastain,
Chief Executive Officer