What's for breakfast?
Whatever's being served tomorrow morning, here at the Center of Opportunity … if you're here for breakfast, chances are very good that you'll meet Larry and Anna.
And you'll soon discover that it's not just breakfast being served around here — it's love. It's joy.
Larry and Anna are living in the joy of service.
They get up at 4:15 in the morning to get down here in time to prepare for breakfast for our guests. They could be sleeping in, they could be sitting back, enjoying their retirement years … but they love being of service. So they volunteer with our "breakfast crew" four mornings a week.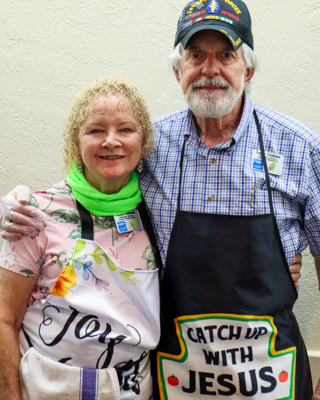 We love them — they're delightful. They're full of the joy of the Lord.
Anna spent her career as a doctor and served on the board of directors of a national pathology organization. Larry is an Army veteran and spent 22 years in law enforcement, most of it serving on the midnight shift. Here, serving up scrambled eggs and fried potatoes, they're just servants … friends of people in need.
In reality, they've been responding to needs in our community for decades. When Larry was a cop on the beat, he often came across people in trouble in the middle of the night — and directed them to Gospel Rescue Mission to get the help they needed.
Seeing what God was doing in people's lives here, Larry and Anna wanted to be part of it. Many years ago, they began donating to the ministry. They also donated Christmas presents for the children here. (Hot Wheels cars were a huge hit with little boys!)
When they heard about the Center of Opportunity, they were quick to visit. I remember the day they arrived. I had the privilege of giving them a tour myself.
From that day, they were eager to be more involved. For years, Larry and Anna had cooked and served food for functions in their local church. When they learned that we needed help in the kitchen — especially, early in the morning when we were short of volunteers — it was a perfect fit.
Week after week, they've faithfully served the homeless and hurting (and they've made dozens of friends along the way). Sometimes, they sing Gospel songs. Sometimes, they surprise our guests with special foods. (Pizza and soda were big favorites one day!)
When the virus crisis struck, many of our volunteers had to quit. Larry and Anna knew they were at risk too … but the made the decision to keep serving.
Then, they took it one amazing step further — when Anna accepted a position as a member of our board of directors.
And through it all, they've faithfully offered their generous financial support as well.
It's the joy of helping others … and it's something more: It's the joy of knowing that what you're doing is making a real difference for those you're helping.
When you give, when you serve, when you see a need and respond … and then, when you see what an amazing impact you're making … there's simply no joy greater.
Today, you are needed, too. However you can be involved in this work, you can have high confidence in the value of your contribution — because lives are transformed here, by the power of God's love. We know this to be true, because we see it happening every day.
I invite you to experience the same joy that Larry and Anna are experiencing — by being a part of the proven-powerful ministry of Gospel Rescue Mission. You don't have to get up at 4 in the morning. You don't have to be a whiz in the kitchen. But you can give, out of the resources that God has entrusted to you. You can share what you have.
Would you please join me in celebrating Larry and Anna's faithfulness — and the faithfulness of God in the lives of the men, women, and children here at the Mission — by making a special tax-deductible contribution right now?
This incredible work that we all love so much depends on caring friends like you. In fact, as the virus crisis continues, your support is more important than ever. Some can't give; they've lost their jobs or their health. But if you're able, I hope you'll give today, with gratitude, and joy. The joy of service.
I hope to hear from you soon! Let the joy flow!
Thanking God for you,
Lisa Chastain
Chief Executive Officer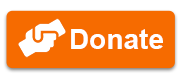 P.S. As much as they've given of themselves, Larry still says, "I'm getting more out of it than I'm putting in." That's just how giving works. Join the joy! Thank you again!