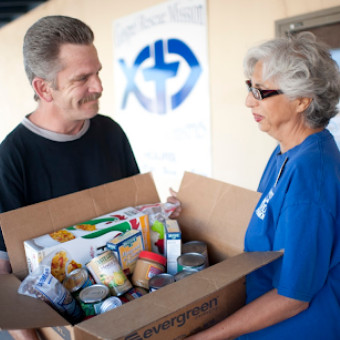 Prevent
1 in 4 in our community struggle with poverty and hunger and 78% of workers live paycheck to paycheck. Our goal is to prevent homelessness by providing needed resources to those on the brink.
Community Ministries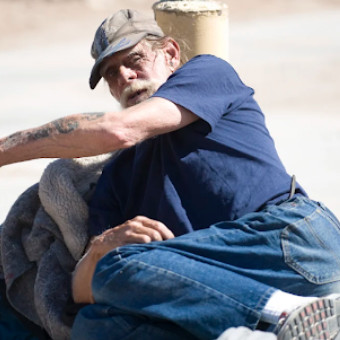 Help
Thousands of men, women and children in our community spend their days and nights seeking shelter from the elements. For some, every day is a fight for life.
Shelter & Programs
Prayer & Spiritual Support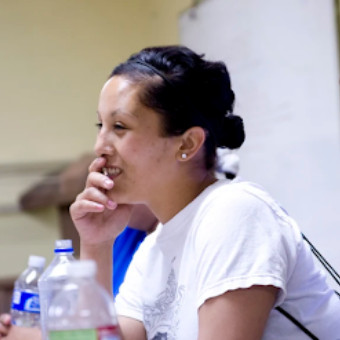 Heal
Many homeless men and women suffer from addiction. We help provide them a pathway out of the bonds of addiction with faith-based programs, practical tools and support.
Men's Recovery
Women's Recovery

Fact:
1 in 4 in our community live in poverty

"We are just a flow through of God's goodness."
-Lisa Chastain, Executive Director
For those who live paycheck to paycheck, all it takes is a reduction in hours, loss of a job, issues with a car, for example, for a tough situation to become dire. Our goal is to provide stabilizing resources for those living on the brink of homelessness. We are blessed to receive donations from the community and pass them on to those in need at no cost to them. These resources include:
Food Boxes
Personal Hygiene
Household Items
& Furniture
Clothing
Baby Supplies
Pet Food
We also partner with over 30 agencies to provide even more to individuals and families in need.
Community Outreach
Call for available services and hours at (520) 740-1501

Fact:
Over 30,000 Arizonans experience homelessness every year

"If it wasn't for Gospel Rescue Mission, I don't know where we would've been. God led us here."
– Chris
When guests arrive they are welcomed and offered a warm meal. Our team of compassionate guest advocates work with guests to assess their needs and develop a plan that helps them establish stability and reclaim their lives.
Most guests come to us with several barriers that need to be addressed in order for them to be successful. These might be: unemployment, lack of education, mental health, trauma, abuse, and addiction. Learn about our Recovery Program.
The Shelter Program at the Center is run out of the Center of Opportunity and works with over 30 nonprofits and social service organizations to help holistically address physical, spiritual, mental and emotional issues so that guests can find long-term success and healing. This collaborative campus offers access to medical care, dental care, behavioral health, transitional housing, veterans services, government services, and so much more. Learn more about the Center of Opportunity and Partnering Organizations.
Eligibility and Intake
Shelter guests must be sober, and are accepted based on bed availability and need, without regard to age, ethnicity, or religion.
Our shelter is wheelchair accessible. However, shelter guests must be able to care for their own daily needs (dress, shower, get around, etc).
Call us for bed availability at (520) 740-1501
"I was able to heal. They worked with me, at my pace."
– Deidra
Our faith-based recovery program helps guests struggling with addiction uncover underlying issues that led them to their homelessness. We work with each person individually because every person's journey is unique. For some this is a quick process and for others, rewriting their future takes several months or years. Our goal is to achieve lasting restoration and peace so that they are able to lead fulfilling, productive lives.
We offer recovery for both men and women. Our men's recovery program is situated at The H.S. Lopez Center of Opportunity Campus while the women's recovery program is housed at the Wayward Winds, with private casitas that allow us to welcome single mothers with young children. Single mothers in this program have access to support services so that children are safe and nurtured, and moms can be successful in their journey.
"I now get to work with a lot of women similar to me through a nonprofit that helps others like me find employment."
– Peggy
Long-term stability can only be achieved through living-wage employment. Lack of education, life skills or poor interpersonal skills can become a difficult barrier to overcome. Our case managers work with shelter guests to develop a plan that will help guide them on the path to self-sufficiency that may include providing education, life skills development, computer literacy and soft skills training. This helps our guests attain and maintain living wage employment so they are able to thrive once they leave the shelter.
"I went from being homeless and not being able to provide for even myself to providing for others."
– Wes
The foundation of our ministry is built upon healthy relationships, teaching, and grace. The length of each shelter guests stay is dependent upon their needs and ability to progress toward goals determined in conjunction with their case manager. The ultimate goal is to move our guests toward independent living, which may happen quickly for some and may take several months for others. We walk alongside each on their journey and provide practical support and housing assistance when they are ready to transition from the shelter to self-sufficiency.