For the homeless and hurting we serve, it's not enough to break the chains of addiction, to introduce someone to a relationship that leads to transformation, or to help untangle lives from the legal obligations picked up along the way. Even after all those monumental things have been accomplished, one more still remains: Living!
To be truly free, finding self-sufficiency is critical, and the best way to get there is through education. For the past 15 years, the Fitzgerald Scholarship Fund at Gospel Rescue Mission has made higher education a real possibility for our guests.
Stephanie is just one of the hundreds the Fitzgerald Scholarship Fund and your support have set free.
"I was tired," Stephanie remembers. "I was tired of living the way I was. I was broken. I was trying to fill the void in my life with drugs, with men, with whatever I could get my hands on. Nothing ever filled that spot. I had this broken piece inside me."
Growing up in a broken home, abandoned by her father, Stephanie turned to drugs for comfort at age 11. By the time she was 21, she was homeless. After five years without a place to call her own, a kind border patrol agent pointed her to Gospel Rescue Mission.
"While I was in their long-term recovery program, God just blessed me. They helped me heal those inner wounds that drove my addiction for all those years. All that brokenness and hurt and pain inside of me, through therapy with my counselor at the Gospel Rescue Mission… they just blessed me."
Thanks to friends like you, Stephanie found freedom from the addiction that kept her on the streets. Step by step, we helped restore the broken pieces of her life.
"I learned how to use computers while I was at the Mission. I didn't know how to type! We did Bible studies every morning with devotions. It was the first time since I was in elementary school that I read a book. They taught me about family. I was able to get off probation, get my felony set aside and my civil rights restored, and get my driver's license back. GRM helped me with all of that."
But five years without employment doesn't look good on a resumé. There was no getting around the fact that Stephanie was going to struggle to make ends meet out in the real world. That is, until the Fitzgerald Scholarship Fund gave her another option.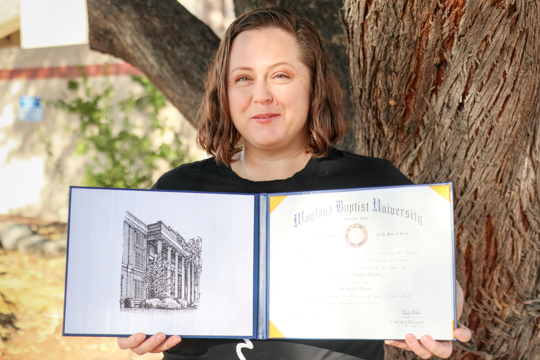 "When we moved to Tucson," says Marisa Fitzgerald, "my husband Mike saw an advertisement in the newspaper for GRM. After visiting, it was very easy to see what was needed. For Mike, a geologist, knowledge was the entry point for a bright future. Once you open your mind to something new, you cannot stop. So we set up a fund to help others find their purpose and pursue it. It makes me very happy to see his wishes fulfilled."
For Stephanie, finding her purpose wasn't hard. She wanted to emulate the counselors who had helped her by helping others. Thanks to the Fitzgerald Scholarship Fund, she was free to pursue that passion and soon earned her certificate in Social Services from Pima College.
For the next five years, she used her certification at a residential treatment facility to help other women become clean and sober. But what Mike Fitzgerald said about opening your mind came true. Stephanie found that she wanted to do more. Thanks again to the Fitzgerald Scholarship Fund, she was able to stretch her wings and attend Wayland Baptist University.
"Mike and I would hear about the wonderful stories of changed lives and it was hard to hold back the tears," says Marisa. "But we never considered ourselves as the ones changing those futures. Mike would tell me how proud he was of the courage, determination, and effort it took to turn their lives around. We both were."
We're proud to report that, last year, Stephanie earned her Bachelors of Applied Science Degree, with a specialization in Social Services, and is using her degree as a case manager at a facility that helps homeless families. She's currently pursuing a master's degree to become a Licensed Practical Counselor.
"Marisa came to my graduation and I was blessed by her," says Stephanie. "She had this face of a proud mom watching her kids graduate. She gave me the biggest hug! I was really glad she was able to come. I'm so grateful for what Gospel Rescue Mission did for me. Their tagline is 'From Homelessness to Self-Sufficiency,' and that's exactly what it is. I look back and I'm amazed how far God has brought me. I was a shallow, broken woman who was hurting people because that's all I knew. Now I'm a leader. I'm restoring people and doing God's work and it's amazing! It's so good!