STAFF SPOTLIGHT

•
Workforce Development Team
"I could have been a statistic."
As a young woman, Nina found herself with all the burdens of a single mother—with all the financial strains, emotional heartache, and overwhelming pressure—but she was not alone. Nina had some strong mentors who gave her life-changing advice: education, education, education.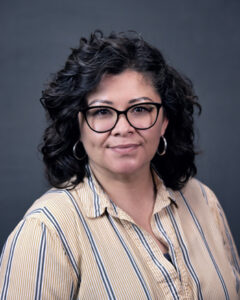 In spite of the numerous challenges she faced—working multiple minimum wage part-time jobs, running a household solo, and raising her son—Nina was able to earn her Master's Degree in Education! But what drove her to succeed was knowing that if she wanted to provide for her small family, investing in herself was the best way to achieve that. "I looked at my son, and I knew I needed to provide a better life for him."
Nina now works for GRM as our Workforce Development Manager. Because she knows first-hand how education can impact a person's life, Nina is passionate and compassionate as she mentors our guests, helping them find living-wage careers that open doors and provide them with the best opportunities. Nina and her incredible team (Sabrina and Colter) walk alongside each guest, making sure they have the knowledge, tools, and resources they need to secure living-wage jobs. And thanks to the H.S. Lopez Family Foundation, the Pima Foundation, and our partnership with Pima Community College, guests like Robert, Jose, and David can now enroll in Rapid Certification Training in CDL class A license, Information Technology, Culinary Arts and, soon to come, Construction Trades. Every guest who comes to Gospel Rescue Mission now has the opportunity to pursue a new pathway, not just to jobs but to careers that lead to lifelong self-sufficiency, which could end the cycle of poverty in their lives and future generations.