Robert
For over 15 months, Robert has stayed clean and sober in our Recovery Program, learning recovery and life skills while growing stronger in his relationship with the Lord. And not too long ago, he shared his story with us on our Homeless to Wholeness podcast. After his wife, Irene Melanie May, was murdered in 1988, Robert fell into heavy methamphetamine use. He was lost in his addiction for decades. But after walking through our doors—following the advice of Rick Davis, a dearly missed friend of our ministry—Robert rededicated his life to Christ and was recently baptized.
"My story is like the prodigal son in the Bible," Robert said, "God had given me everything, and I lost everything, including myself… just like the father embraced his son when he returned home. God embraced me!"
For Robert, this is a whole new start in life! Not only was he reunited with his kids and their families, but soon after completing the Recovery Program, he enrolled in a Pima Community College class at the Center of Opportunity to attain his CDL class A license so that he could embark upon an exciting new career. Robert now has a bright future ahead of him.
Jose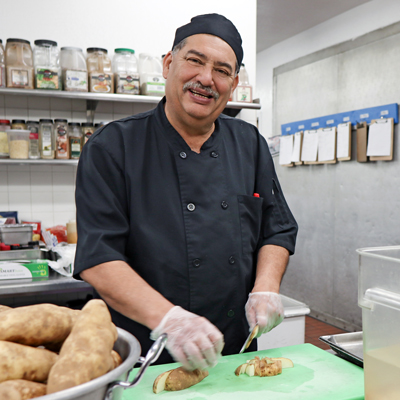 Jose was a "functioning addict" for over twenty years, struggling with crack cocaine. He tried to get clean a few times but relapsed. Jose came to Gospel Rescue Mission for help after spending his savings living in a motel, not having anywhere else to go. For months beforehand, he had heard the still, small voice of the Holy Spirit encouraging him to check out the Center of Opportunity. When he finally did step through our doors, he was very impressed. 
Once here, new opportunities quickly presented themselves. Jose was able to get his driver's license reinstated, and then he enrolled in the PCCculinary class. Jose had always wanted to study to be a chef—and has some restaurant experience—but never before had the opportunity for formal training or study. And he has already secured employment!
"Gospel Rescue Mission has provided everything I need… access to medical and dental, shelter, food, all the resources… I wasn't even computer savvy until I came here… and now I have many more tools and experience."
David
David is a second-generation alcoholic. With easy access to a stocked liquor cabinet, he started drinking when he was fifteen to impress his friends and quickly became a "functional addict". Drinking, for David, eased his anxieties and helped him cope with all the mental challenges that threatened to overwhelm him. When he entered our Recovery Program, we recommended he speak to the Wellbeing Institute, one of our on-site partners, to get help for his anxieties, which was one of the root causes of his addiction. With all the help and support he received from GRM, not only from our staff and volunteers but also from our partners, he's finally found true freedom from the bonds of addiction. And since completing the program, he has been working toward the next phase of his life—finding stability and self-sufficiency.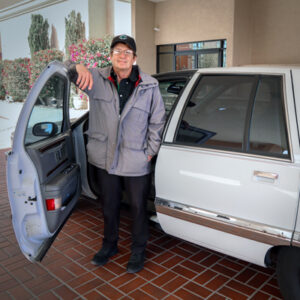 David enrolled in a Pima Community College class at the Center of Opportunity to attain an IT certification. He is in the final stages of his coursework and looking forward to a future with hope and promise. Much like Jose, even before completing the program, he secured full-time employment in a promising new career.
UPDATE: Thanks to an extremely generous donor, David was gifted with a vehicle to help with his long commute to work, helping him with his fresh start and ensuring his long-term success.