Darwin returned from the Gulf War a different man. Unable to cope with the violence he had seen and been a part of, he fell deep into addiction. He lost his entire family due to his addiction and eventually became homeless. Shame and guilt ridden, suicidal, lost, and severely underweight, Darwin was wasting away.
One morning, Darwin decided it was time to end all of his pain and suffering. He cried out to God in desperation:
"If you are there… if there truly is a God… You need to save me."
The morning turned to afternoon and Darwin noticed a man pacing around the park in what felt like endless circles. Eventually the stranger approached saying that God told him someone there needed help.
Darwin was stunned. How could this man have known his despair and that he had wanted to take his own life?
This stranger, who claimed to be a preacher, walked up to him and said, "God called me to let you know that you are going to be okay." Then he invited Darwin to dinner.
For the first time in many years, Darwin had hope. He accepted this man's hospitality and was encouraged to visit Gospel Rescue Mission the next day, where he found good food, safe shelter, and all the tools and support he needed to recover.
After a few months at GRM, Darwin put his faith in Jesus and from that point forward, Darwin's life was completely transformed!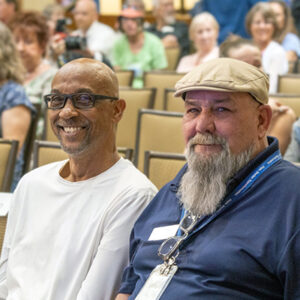 His journey of transformation was not an overnight process. Darwin spent over a year in the Recovery Program, and then had to go through the difficult process of working toward restoring the relationships he had destroyed through his addiction. But if you met Darwin today, you would never know he was once an emaciated, suicidal, lost in addiction, and living in a park. He has been sober for over 20 years! He's married to a godly woman (the love of his life), is a proud homeowner, and works for an organization that helps veterans like himself navigate the transition into civilian life.