"I wanted to go back to the better person I was before I got into drugs."
Isis lost everything to her addiction and just wanted the chance to hit the reset button. She had hope of recovery when she found Gospel Rescue Mission but had no idea that she would also find true love waiting for her.
I was picking up a few things the other night and, walking down the aisle, something caught my eye. It was a display that said "Give a Little Love this Valentines." It stopped me in my tracks. In all my years, I don't think I've ever seen anything "Valentines" get the concept of love so right! I was so moved, as it made me think of the love God gives to us each and every day. 
Contrary to popular belief – love is an action. It's not affection, it's not attraction, it's not even a bear that says "I wuv you." Real love is powerful, it's active and it transforms people. People like Isis. 
A few years ago, at 20 years old, Isis fell in with the wrong crowd, started experimenting with drugs and pretty soon, lost everything – job, home, even family ties.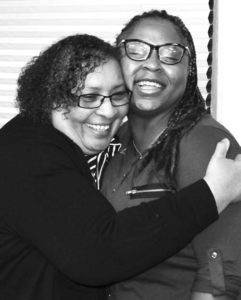 Young, homeless and addicted, she turned to crime to support her habit – and it landed her in jail for 10 months. The good thing is, it gave her some time to think. "I didn't want to be who I was anymore," says Isis. "I wanted to go back to the better person I was before I got into drugs." But what she wanted wasn't possible without love. Real love. God's love. 
Thankfully, that's where you came in. It took the love of friends like you to reach out and give Isis something the world's definition rarely provides – a second chance. 
Here at Gospel Rescue Mission, she found freedom from her addiction. She received the tools she needed to start over. We helped her earn her driver's license back, she found a job and is enrolled in college. She's even repaired the broken relationship with her family. More than that, she's sober, a graduate of GRM's women's recovery program and is a new creation in Christ. 
That's what happens when you connect someone to the heart of God, His love shines through – not as the world loves, but in a way that takes action and transforms people from the inside out. Today, Isis is brand new. She has that second chance. "I feel like I'm on the path to realizing my greatest potential and it's only because of God and Gospel Rescue Mission!" 
Would you join me and "Give a Little Love this Valentines" to actively help another man or woman get off the streets? Or maybe you have the resources to help 10 or 20 find new life. 
Just know that whatever gift you give will be an ACTION OF LOVE that can have an eternal impact in someone's life this month. Thank you so much and God bless! 
Yours in Christ, 
Roy E. Tullgren III Executive Director 
P.S. The love that picks us up and dusts us off every morning is the same love that is constantly at work transforming men and women at the Mission. Isn't our God amazing? Thank you for "Giving a little love this Valentines" and sharing that chance at transformation with someone who wants to change.