For America and the world, the crisis continues. I am praying for you, for hope and safekeeping. Meanwhile, I am witnessing the power of your love, your Christ-like compassion, your generosity, your faithfulness, every single day, here at Gospel Rescue Mission.
For those who cannot "shelter at home" because they have no home … you are providing a place of refuge here in our community. With your support, our staff and volunteers are serving heroically and courageously, to care for the most vulnerable among us: the homeless, the hungry, the hurting. Your ministry through the Mission is more important than ever, because there are more people in need now than ever.
Among the most vulnerable: women with children. Especially as we approach Mother's Day, I am so grateful that Gospel Rescue Mission is here, offering a safe place for them.
Veronica is one of those moms. She was just a teen when she got caught up in the heavy drug scene. Her life was chaos: partying, boyfriend, babies (a boy and twin girls), and drugs.
Her boyfriend left her and the children — and then their son, at the age of 17, was involved in a shooting. He was convicted of manslaughter, and sentenced to 21 years.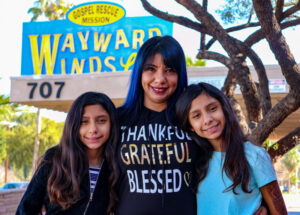 Veronica went into a tailspin. She'd been trying to get straight, but now she went back to alcohol, back to drugs, more deeply than before.
She was terrified of losing her girls — who were just 3 years old — but she couldn't get control. "I was in shock," Veronica remembers. "I numbed everything out." Working as a pharmacy technician, she had access to plenty of drugs.
But finally, one grim day, Veronica overdosed. Her mother took custody of the girls. From that moment, her downward spiral became even more brutal. "I let the wrong people into my life," Veronica recalls. "They took advantage of my bank account, crashed my truck, broke into my apartment twice; I couldn't trust anyone. I lost my job, my apartment, I lost my truck. I lost everything."
She also lost weight, to a frightening extreme. Living outdoors, sleeping in the bushes, she dropped to 85 pounds. "It was horrible. It was scary out there…. I was skin and bones. My skin was dry from the heat. I went days without eating."
Finally, after two horrific years on the streets, she crossed paths with an old friend … who knew of a place she could go…. The moment she stepped through our door, haggard and weary, Veronica knew something was different. "I felt a peace inside me." She was thrilled to learn that she could enroll in our recovery program, to break free from her addictions once and for all.
And she was even more thrilled to learn that she could bring her daughters to stay with her here, while she began rebuilding their life.
"I was nervous at first. I wasn't sure what I was doing," Veronica says. "But as soon as I started in the classes, I saw how much they cared, how honest they were…. I always knew there was a God, but not the way that I know Him now. That's when I knew I was in the right place."
The girls are so grateful to have a stable life, to have nutritious meals, to be back in school, to have a mom. Not "in name only" — a real mom. Veronica is a different person today. A strong woman, and growing stronger. A good mother, and getting even better.
"When my mom was gone, I didn't know how to handle it," says Enivid, one of the twins, now age 13. "Now I know that God was always there. I remember one night I wanted my mom and I prayed to God that she would come home. She did that same night!… I've realized that He never really leaves you, even when you think He's not there; He's right by you."
"When my mom was out there, I didn't really feel like I had a future," says Nevaeh, her sister. "I was always worried, and I didn't know what I was going to do. But here, I've seen restoration."
This Mother's Day is going to be a day of unspeakable joy for Veronica and her twins … the first Mother's Day they've ever known when they were all together, and safe, and healthy, and stable. They'll be celebrating God's love — it is your generosity that opened our doors to them.
She's discovered grace here. "I've realized who God is, and what He's done for us," Veronica says. "I always felt condemned in the past, that I deserved to be where I was at. All that pain, guilt, anxiety, fear, I felt released here…. I'm comfortable now talking to God."
Thank you for helping to save this family. And now, I hope you'll help to save another, and another, and another after that. The work must go on for families like Veronica's. Your gift today will make a huge difference.
Many of our volunteers, whose service has helped keep our costs down, are in the vulnerable age range for COVID-19, so they cannot serve right now. This makes your generosity today — any gift you can give — extra-important.
Please do whatever you can. Thank you for your support. God bless you!
Thanking God for you,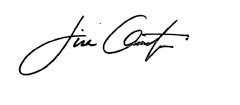 Lisa Chastain
Executive Director
P.S. As I have said to you before, we stand in faith to serve the least, last, and lost. These are times when the hope found in Christ shines brightest. Please help us keep sharing that hope with those who are most vulnerable during this crisis. Thank you again!