A seemingly endless line of cars stretched down Michigan Street on Good Friday – each vehicle full of families and individuals looking for hope.
Thanks to the support of friends like you, they weren't disappointed!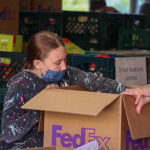 Each car was loaded with ready-to-heat-and eat meals. To help make ends meet, they also received a box full of non-perishable foods and hygiene products.
Best of all, each one was given the opportunity to receive prayer and encouragement from our staff and volunteers as well as a connection to all the resources available at the Mission.
Our guests received a special treat when the University of Arizona football team showed up to lend a hand. Thanks, guys!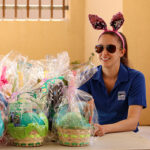 By the end of the day, 848 meals and resource boxes were distributed and 90% of families and individuals received hope in the form of prayer. There's no better way to kick off the Easter weekend!
Thanks again for the partnership that makes the Easter message come alive to so many in our community and at a time when it's needed most.