"Thanksgiving Blessings to Go" now has the potential to provide a Thanksgiving "feast" to TWICE the number of hungry men, women, and children here in our area!
A caring friend — seeing the enormous need in our community, and the capacity to set miracles in motion this holiday season — has come forward with an awesome $150,000 Matching Challenge for our Thanksgiving Blessings to Go outreach.
This means any gift you give today will be matched dollar-for-dollar, its impact doubled, to help feed the hungry … and point people in need to a Friend who can truly change their lives.
Your generosity will go TWICE AS FAR.
If you already gave toward Thanksgiving Blessings to Go, I thank you from my heart.
I'm asking every friend of Gospel Rescue Mission to give — or even give again — to take full advantage of this tremendous $150,000 Matching Challenge.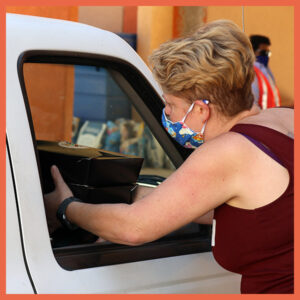 Every $3.02 will be used to provide another Thanksgiving meal for a hungry individual. But now, that same $3.02 will mean two Thanksgiving meals.
Your tax-deductible contribution of $30.20 won't just feed 10 hungry people anymore. Now you'll feed 20.
A gift of $60.40 once fed 20 — but now you'll feed 40 hungry people.
Or give $90.60 — not to feed 30, but to feed 60 hungry men, women, and children.
I hope you've never felt the pain of hunger. But more of our neighbors than ever before are feeling it. And this isn't just about one holiday, or one meal. This is about day after day, weeks or more, without an adequate diet.
This past year, nearly 180,000 more households here in Arizona experienced this kind of hunger for the first time. I don't mean 180,000 people — this is households. And I don't mean 180,000 households total — this is additional households … beyond those in our state who were already facing hunger … a total of more than 800,000 households.
These are shocking numbers. But they're far more than numbers. They are people. They're our neighbors. The ones Jesus calls us to love and care for.
When you provide a Thanksgiving Blessings to Go meal, you'll bring joy to a hungry child … comfort to a worried mom or dad … relief to a frightened senior … hope to someone home-bound with disabilities …
You'll inspire someone to look to Jesus in faith — maybe for the first time in their entire life — and begin a journey of spiritual renewal!
Every family who comes through the line at our Thanksgiving Blessings to Go on November 24th will have an opportunity to connect with our programs and resources. Thanks to you.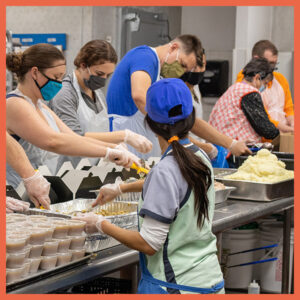 Please be a part of this. No one should go hungry, especially on Thanksgiving. Your generosity today — DOUBLED through the Matching Challenge — will help make sure that everyone in need in our community has something to eat on Thanksgiving …
(Plus, because of the Arizona Tax Credit, you can donate essentially for FREE: Receive a dollar-for-dollar credit — not a deduction — on your 2021 taxes: up to $400 if you file singly, or $800 filing jointly. Your generosity determines your tax benefit!)
Please let me hear from you quickly. We're closing in fast on Thanksgiving Day. Give today, and then pray with me that God will move in people's lives. Then, on that very special Thursday, as you celebrate God's blessings, you'll have the joy of knowing that someone else had something to celebrate, because of the gift you gave today. On their behalf, thank you!