A Beautiful Way to Spend Time With God
"As the deer longs for streams of water, so I long for you, O God." Psalm 42:1 (NLT)
---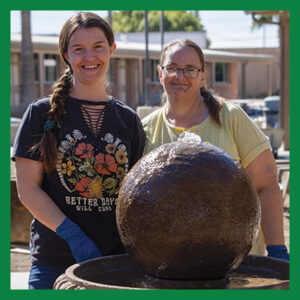 For those who have had to confront so much ugliness in their past, finding a beautiful spot to sit and spend time with God can mean the world.
Today, our women in recovery have such a space.
University of Arizona graduate student Rebecca Thompson recently developed a prayer garden project at our Women's Recovery Center and included our guests in the process from start to finish.
The ladies learned how community spaces and self-expression through art can aid in their recovery and help them move from homeless to wholeness. As you can see, they did an outstanding job creating a beautifully transformed space for future guests to enjoy – making quiet time with God all the more appealing.
Thanks to Rebecca, our guests, and the always-amazing volunteers who worked together to make this project a reality!