Jack was in prison. He needed to be set free — in more ways than one.
And because there are caring people like you, here in the Tucson area, Jack got what he needed. God used your support of Gospel Rescue Mission to set Jack totally free.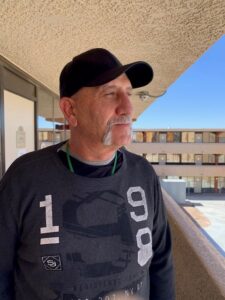 He was about to wrap up his prison time when he began asking around about recovery programs in Tucson. He didn't want to leave prison and fall back into addiction. One man told him he had tried many, and quit them all — without regrets, except for one: I wish I hadn't left Gospel Rescue Mission, he said. I feel like I could have changed there.
Jack was so impressed by the intensity of the man's testimonial, he wrote down our name. But when he got out of prison and went searching for that slip of paper, he had somehow lost it. Or so he thought.
Sadly, Jack slipped back into a life of drugs and crime. Twelve years went by, he was arrested again, convicted again — and sentenced to rehab. By some miracle, Jack finally found the missing slip of paper and asked the judge to send him to Gospel Rescue Mission.
Here, we gave him love and care, safe shelter, and good meals. We re-introduced Jack to Jesus Christ, and soon Jack was set free spiritually. He also enrolled in our recovery program. But Jack struggled. He had been set free from his prison cell — and he urgently desired to be set free from his addictions.
But Jack still needed to be set free in one additional way.
His years of trouble with the law had left him in a quagmire of outstanding debts, unpaid fines, and seemingly hopeless legal problems. He was so preoccupied … so worried … he couldn't focus on our recovery curriculum. His mind was a constant frenzy of questions and problems. There was just too much hanging over his head for him to think about anything else.
Finally, our staff connected Jack with members of our Mission team you may have never met — maybe never even thought about: our legal team.
When our guests can't navigate the complicated legal world — the fines, warrants, and court dates that keep them from moving forward — Christian attorneys help by volunteering their time and talents.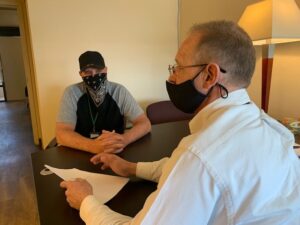 For Jack — as for so many others down through the years — the unique ministry of our legal team changed everything. "It was the work of the legal team that really got me to believe that things could change for me," Jack says today. He's still amazed to recall his initial encounter with our team attorney: "The first time I talked to them over the phone, the attorney prayed for me! You never hear that from an attorney!"
The legal team helped Jack clear $7,500 in fines. They also arranged a payment plan for the rest of his debts — through community service hours … serving here at the Mission!
"When they stood up for me in court, it brought me to tears," Jack recalls. "No one had ever done something like that for me before!" But that's just what Jesus did, on the cross. He took our case. And He won.
This is going to be an awesome Easter for Jack. It's an Easter outside of prison. His first Easter free from drugs. His first Easter set free. He's a walking example of the power of God's love … resurrection power … What Easter is really all about.
Legal freedom was key for Jack. "Not having all those fines hanging over my head is a huge relief," he says. "I would never have been able to focus on my recovery without it."
He recently got to take a trip home to Safford. He knew he had a stash of drugs hidden there. But he was no longer in bondage to the substances. He'd been set free. "I was able to dump all that stuff, even though I was alone, because of Gospel Rescue Mission," Jack says with a smile. "To have control over something that once controlled me — it was empowering!"
Today, I hope you'll give generously to keep the Mission going strong, through all our proven-powerful ministries — nutritious meals, safe shelter, clothing, hygiene supplies, recovery support, help to find work and housing, and yes, even legal support. Your Easter gift today will be a gift of true resurrection for someone like Jack.
Thank you in advance for whatever you can give today. God bless you, and may you have a wonderful, meaningful Easter.
Thanking God for you,
Lisa Chastain
Chief Executive Officer
P.S. We never know what specific issues someone is struggling with, when they turn to us for help. But thanks to your compassionate giving, we can help them be set free, by God's grace and power. Thank you again for setting the reality of Easter in motion for people in need here in our community. I look forward to hearing from you soon!