You and I both know the real meaning of Easter… the power of God's love, that raised Jesus from the dead on that amazing Sunday morning…
It's a celebration of new life, of renewal, of resurrection.
But for many of our neighbors, this Easter won't be a day of celebration—because they're still hurting. They're still struggling.
They're still facing tough decisions every day, about whether to pay the rent or put food on the table… whether to pay the utility bill or replace their child's worn-out clothing.
They need help. They need someone to care.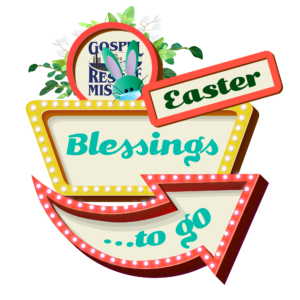 You can be that someone, by supporting our Easter Blessings to Go event!
Together, we can provide urgently needed meals for men, women, and children… and make this Easter truly a season of new life for them—a time of renewal—a resurrection moment!
This drive-through event, on April 2nd, will put meals in the hands of struggling families.
But food is only the beginning.
They'll also receive resource boxes with non-perishable food and hygiene items. We'll engage with every person who turns to us for help—we'll pray with them, we'll encourage them, we'll connect them to all of our life-changing resources and programs, to give them a chance to start over.
Most important of all, we'll introduce them to the One who Easter is all about!
For our neighbors who are hurting, Easter Blessings to Go can be the start of something wonderful.
And for many, it's happening just in time…
A heartbreaking one in five Arizona households is under severe financial strain.
More than 127,000 Tucson residents live below the poverty line.
More than 137,000 individuals in southern Arizona are food insecure.
The need is big. But we serve a big God. And you have a big heart. You have a generous spirit. Your Easter gift today can make a beautiful difference for someone in need.
Every $3.02 given toward Easter Blessings to Go will provide another meal.
And thanks to an awesome Easter Matching Challenge from the William and Mary Ross Foundation, any gift you give today will be matched dollar-for-dollar, its impact literally DOUBLED, up to a total of $25,000.
So I urge you to be absolutely as generous as possible… because your gift will go twice as far to help feed hungry people in our community.
My prayer is that we'll be able to provide thousands of meals… and see lives truly transformed by the power of God's love. We'll provide fun for the kids, and you can even see your gifts in action as we'll be live-streaming the event from 11 – 11:30 a.m.
Please let me hear from you soon. It takes time to assemble thousands of meals. We're making preparations already. Your response of compassion today will make a real difference on April 2nd.
Thank you in advance for doing whatever you can. May God bless you richly… and I wish you a Happy Easter!
Thanking God for you,
Lisa Chastain
Chief Executive Officer
P.S. Your Easter gift today will be doubled through the Matching Challenge! And on Easter Sunday morning, as you celebrate God's life-giving love, you'll have the joy of knowing that you turned a day of sorrow into a day of joy for a family in need, right here in our area. Thank you again!