"Am I really going to be able to quit drugs? Or is this the place I'm going to lose my kids?" 
Deidra spent her whole life surrounded by drugs and chaos. She found Gospel Rescue Mission just as she was about to lose her children because of her addiction.
You know somebody — or maybe you're one of those people yourself — who just makes things grow. 
That was my grandfather … the founder of Gospel Rescue Mission. 
He wasn't a gardener. He grew people. God gave him a gift for finding someone who was broken, or lost, or hurting … and infusing that person with hope, with healing … until they started growing … becoming everything God intended them to be. 
My grandfather was a grower in other ways, too. He grew this Mission by bringing people together, and inspiring them to step up, to contribute whatever time and talent and treasure they could, to become part of something bigger than themselves. 
All those individual contributions were magnified into a huge collective impact, reaching thousands of hurting people, changing their lives by the power of God's love. Countless businesses, churches, families, and individuals gave whatever they could — money, extra food, spare clothing, furniture, and more — and as they did, the impact of their generosity grew. 
This month, we're celebrating the "Opportunity to Grow" that this Mission has always represented, for multitudes of people in need. There is nothing like our Center of Opportunity for people who arrive just barely clinging to hope … not just meeting their immediate needs, but giving them a chance to grow into their God-given potential. 
This is the beautiful calling I hope you'll join me in again today, by giving a generous gift of support to Gospel Rescue Mission. 
With your gift of compassion today, you'll come alongside a homeless person and give them the skills, the confidence, and the support they need to successfully reintegrate into society. You won't simply be providing shelter — you'll be offering a place of hope and restoration for people's lives. 
You'll rescue someone like Deidra. She was born into a home wracked by violence… her mom suffered from addiction and her dad was an alcoholic. "My parents, my uncles, my cousins, my friends all used drugs," Deidra remembers. "I was surrounded by it." 
Deidra was drinking and using marijuana by 13. At 17, she had a baby boy. Three years later, a baby girl arrived.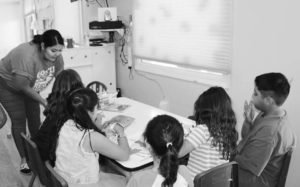 After almost losing custody of her own children, Deidra has turned her life around through your support. She has graduated from our women's recovery program and works in GRM's childcare area. 
With the stress of single parenthood, Deidra turned to heroin, just trying to make herself numb. 
Her life was chaos. Because of the drugs, she couldn't hold a job. From the time she was 23, she was addicted and homeless. She left her children at her mother's place. 
"When I wanted to see my kids, I would clean up and show up at my mom's house and beg her to see them," Deidra remembers. "My kids would just cry and cry. Eventually my mom got tired of it. She called DCS on me. She told me, 'If you don't straighten up, I'm going to take your kids away from you.'" 
It was a wakeup call for Deidra. "I didn't want to lose my children." She heard about Gospel Rescue Mission, and showed up with her children. Her daughter was scared. Her son was angry. Deidra was both — tormented by questions: Am I really going to be able to quit drugs? Or is this the place I'm going to lose my kids? 
But God had set the stage for Deidra to grow. The first student she met in our Recovery program was a young woman named Marlene. "She had this light inside of her — this hope and love and courage," Deidra recalls, "and I wanted that light." 
The two women talked for two solid hours. By the time that conversation ended, Deidra knew she was in the right place — and ready to grow. 
Today, Deidra is free. By God's grace, she is powerful. "I had all this comfort and support from the counselors and staff here," she says. "I am so grateful for that! God is my right-hand man now. Before I go to anyone else, I go to God." 
She's graduated from our women's recovery program, and working through the re-entry phase. We're helping her find a job and affordable housing. Her son 10, and daughter, 7, are doing great. "My children know so much about God now!" Deidra says. Sometimes they look at the transformation in Deidra and think That's OUR Mom! 
Amazingly, this woman who nearly lost her own children is serving beautifully in our childcare area — and planning for college … to become a children's counselor! 
And this is just one family among so many, who have been redeemed by God's love through the generous support of a friend like you … a friend who says "I'll give someone the opportunity to grow." A friend who says "I'll be part of something bigger than myself — I'll do my part, and let God grow it … multiply it … magnify it … into something beautiful, something eternal, in the life of someone in desperate need." 
Today I ask you to be a friend like that, once again. 
Thanking God for you, 
Lisa Chastain Executive Director 
P.S. Give as generously as you can. Thank you so much for letting God grow you, and grow others through 
you!