Accidental Addiction
When a prescribed addiction wrecked Derric's life, you provided a way back!
In 2004, Derric walked away from a car accident he shouldn't have survived. He was traveling one snowy morning on a mountain road in Colorado when he collided head-on with a semi heading in the opposite direction.
"My car was absolutely crushed. The truck jackknifed and I hit it at 55 miles per hour. I don't know how I survived."
It was a miracle. But Derric didn't walk away unscathed. The crash left him with bulging disks in his spine and intense, constant nerve pain in his neck, back, and hip. The doctors told him the disks would never heal and prescribed powerful pain killers for him. Ironically, they would cause him more pain then he could possibly imagine.
Derric was a go-getter. He bounced back from the accident and, over the next ten years, he married, had kids, and built a successful renovation business from the ground up.
"We got a house. We had animals: horses, goats, chickens, tortoises, and turkeys. It was like every man's dream of an American lifestyle, but a hundred thousand times better.
"My tolerance for the pills got higher and higher, but the doctors couldn't prescribe more. That's a problem when you're still in pain. So, I took it upon myself to go to the streets and invest in my needs." Around that time, Derric noticed news reports of an opioid epidemic sweeping the nation. He recognized the parallels to his current situation, but he didn't pay it much mind. Thanks to his new source, he was doing fine.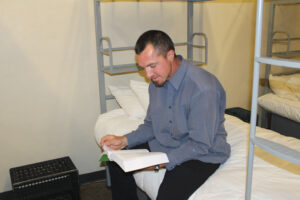 But as Derric's success continued to climb, so did his need for painkillers. It wasn't long before he reached the maximum legal dose. In desperation, he decided to undergo a series of risky, epidurallike injections designed to dissolve the bulging in his disks and eliminate the pain once and for all. But when he didn't see results, he made a rash decision.
"I thought I was invincible. I couldn't see that I was addicted, but my family could. It was August 5th of 2015 when my wife left me. I lost it. I couldn't figure out why it happened. I lost my drive, my identity, my house… I just gave up on everything."
Overwhelmed, Derric turned to the one place he knew could numb the pain. "I went to the streets for some heavier drugs and became a heroin and meth junkie, bouncing around from one drug dealer's house to another."
The next two years were a blur of homelessness and jail time.
"When you're on the streets doing drugs like that, your days start to blend. You're up for two or three days at a time, sometimes longer. All your mind is focused on is that next fix. Then one day I realized there were two birthdays, two Thanksgivings and two Christmases where my kids didn't know if I was dead or alive.
During his last stay in jail, Derric decided he had enough. He started attending and completing every recovery course he could find. He got sober and noticed something amazing. Apart from being clearheaded for the first time in a long time, his nerve pain was completely gone! It turned out that the injections had worked years ago, but he was never clean long enough to notice.
Fortunately, the courts did take notice of the change in Derric. They offered him a deal. In lieu of more jail time, they would allow him to be released on intensive probation for three years, provided he continued his recovery. Derric readily agreed, but there was one problem. He didn't have anywhere to go.
Thankfully, your love reached out and gave Derric the space he needed to get back on his feet.
"My probation officer drove me to the Gospel Rescue Mission. I got the first solid night of sleep I had in six months. Then next morning they actually served me breakfast. I hadn't been served in a long time. I hadn't eaten real food in a long time. Now I've got health insurance again. I've got my ID back. Then they told me that I can have mail sent here and I was like, 'Oh my God, I have an address again!'"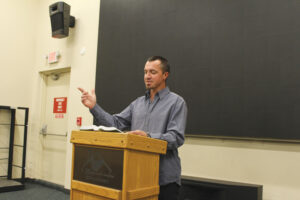 Step by step, your support streamlined the process and gave Derric a real opportunity to start over.
"I tried to do these things when I got out of jail before and it's almost impossible. You don't have money to do it, you don't have transportation to get to the multiple places you have to go. But it's all right here. I was so excited when I found that out. Things like that change everything."
Just a few short months later, Derric has made amazing progress. He's reduced his intensive probation level two ranks – a process that usually takes years. He's found a new job in renovation, he's close to finding an apartment of his own, and has even reconnected with his family!
"Being here has allowed me to focus, to rebuild my life, my relationship and trust with my kids. I've seen things happen in leaps and bounds. I'm excited for what's yet to come and I'm indebted and grateful to the staff here. I'm looking forward to coming back and doing whatever I can, volunteering, whatever, to continue to be a part of this place for what it's done for me.