Monsoon season is here.
Soon our city will be host to torrential rains, lightning, winds, flash floods, and more. It's a spectacle to behold – from the safety of your home. But what if you don't have a home to run to?
That's where Juan was. Trapped outdoors. Homeless. No place to escape.
"I was down near the Santa Cruz River, sleeping in the tunnels," he remembers. Suddenly people were screaming, "Get out, get outta there, the water's coming!"
That's when Juan realized "I can't swim."
He struggled to his feet and began running. Just as he pulled himself out of its path, the water crashed past him. "I got out just in time," he recalls. "It was scary!"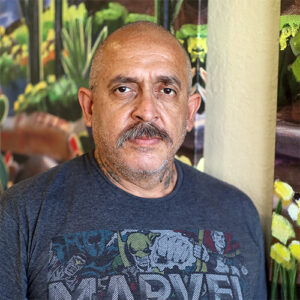 For a homeless person like Juan, monsoon season isn't just about dangerous weather, it's about finding a refuge from the storm that he didn't have to fight for because a dry place of safety is like gold.
"I got beat up a bunch of times for sleeping in the wrong place during the storms," Juan says sadly.
The monsoons are dangerous, but more so for homeless neighbors — in lots of ways. We've got to help them because the monsoons are upon us again.
Because of the virus crisis, homeless people have fewer options for shelter than ever before. Yet by God's grace, you and I can help. We can provide emergency shelter beds and nutritious meals to homeless men, women, and children.
We can keep our neighbors, caught in desperate situations, safe and dry, but it takes the help of caring friends like you. We need your compassionate support to meet their urgent needs.
I'm asking you to be as caring as possible, for the sake of people like Juan. Today he's almost 50. Not long ago, someone told him about the Mission. Soon he showed up here, hoping to start life over. "I'm trying to get help," he said. "I'm so desperate…."
It's your giving that enables us to help Juan, and others like him. Especially in this hard season, you can save lives. "It's miserable out there during the monsoon," Juan says. "If you don't have anywhere to go, you get wet, and you get sick."
Please do what you can. With your strong support today, we'll meet the most immediate needs of our neighbors, and introduce each and everyone to the Savior who can turn their lives around. I hope to hear from you soon.
Thanking God for you,
Lisa Chastain
CEO