Helping many find work and self-sufficiency
Food and shelter. Both are critical for rebuilding a life.
But neither of them last forever.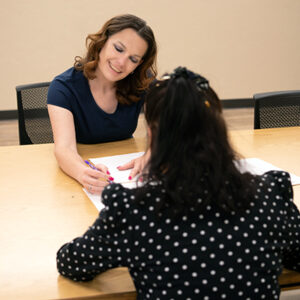 Once the stomach is satisfied and a safe bed has been secured, the next step is to keep progressing toward transformation and self-sufficiency. For some of our guests, that next step is breaking the chains of addiction; for others, it's finding permanent housing. But for most everyone, the next step eventually is finding a job.
However, with extended gaps in employment, and felonies and drug charges marring a past, careers aren't the easiest to come by.
That's where our Workforce Development program comes in. Melody Andrews and Janette Gamble work hard to put together resumés, find potential employers, and help the men and women we serve move forward – toward self-sufficiency and a bright new future.
You might remember Melody from our February Newsletter, as part of the team that assisted with restructuring our Children Services program. Now she's using her previous experience to help improve how our guests find employment.
"Before GRM, I worked for DES (Department of Economic Security) for three years, and part of my job there was to help clients find employment," says Melody. "When the leadership here at GRM asked me to take a look at the Workforce Development program, I was apprehensive at first. But now I am so proud of what it's developing into and what our successes look like. Every time someone gets a job, it's such a good day!"
Melody developed the program, she and Janette implemented it, and since it started last year, the results have been nothing short of amazing, even during the virus crisis.
"We start with a five-day class. There's an introduction to the courses and what the expectations are. There's resumé writing, workplace conflict and resolution, and budgeting. We help draft their resumés and edit them. We even provide professional clothing. During this process, we try to understand who they are so that we can discover their skills and their passions. Our goal is not only to find employment they can maintain but where they'll thrive and be happy as well."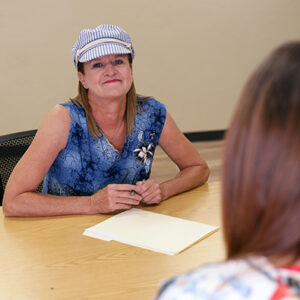 Debbie can attest to the difference this individualized focus has made in her life. A survivor of childhood abuse, Debbie's been an alcoholic for 35 years.
When she found sobriety and a saving relationship with Christ through our Recovery program, she wasn't sure she could make it on her own. She didn't know the first thing about finding real employment.
"It was so scary. I've held menial jobs here and there where I was paid under the counter. I cleaned houses… it was always just enough to pay my bills and give me time to drink. To be responsible and have someone to report to, that's something else."
Our team worked diligently with Debbie to ease her fears and give her the tools to find success.
"I could hardly spell the word 'resumé' before coming to GRM," Debbie laughs. "They helped me learn what it is and how to write one. They provided me with clothes for my interviews, introduced me to Indeed (a job posting website), showed me what to post, and how to put together a cover letter. They're so patient and helped me believe in myself, to have faith, and to trust in God."
"Word has gotten around Tucson about what we do," says Melody. "We have about 20 different employers who have contacted us directly, who believe in what we're doing, and want to partner with us and meet our guests. S.R. Smith, Embassy Suites, and AAA Landscaping are some of our top employers."
Soon, the men and women we serve will have even more avenues to success.
We are currently working with an organization to bring rapid certification opportunities to our guests seeking a new trade – 10- week courses in IT & security, culinary, logistics, and construction trades to start. They'll provide all the equipment and curriculum, and our guests will use the certification to secure higher-paying jobs in those industries. We're hoping to bring these services on the property sometime in the next two months!"
In the meantime, dozens of men and women like Debbie are finding more than just employment each month. They're finding a future supported by jobs they love, thanks to you.
"I found a great job working at Bridgewater Assisted Living caring for all their wonderful residents," says Debbie with a smile. "It brings me such joy every day to see them. It feels like I'm giving back and I love it!"