It's not often TV changes your life, but that's exactly what happened to Ken Beavers four years ago.
"I saw a commercial for this Gospel Rescue Mission place, so we signed up, took the tour, and was really blown away by the services and all the opportunities they provide here! Most places have mats on the floor, maybe some food, or there's a soup kitchen around the corner at a church, but nothing like this. It sold me on wanting to be a part of it."
Ken and his wife have a long history of serving others. Ken was a firefighter in the past, he was part of a biker ministry for 20 years, and worked with the homeless in the inner city of Columbus, Ohio where he earned his chaplaincy. Today, he's part of our welcome team, greeting men and women off the streets with respect and dignity and making sure they get connected to the programs and services they need.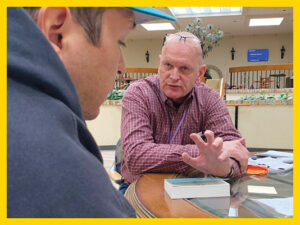 "I sit down with them, explain to them a little bit about the process, and share God's love. I let them know that we're glad they're here, that God has brought them here, to this place, on this day, that it's our prayer they are open to whatever He has in store for them. Some have only been sober for a number of hours, and they're worn out. Others have been living out in the desert with no place to stay. Some are coming from domestic violence situations. I'm there to welcome them, to plant seeds, and to start the conversation."
Ken finds there's a common thread throughout all his conversations.
"Everybody is longing for something, and it doesn't matter if you're a big burly biker guy, or if you're fresh out of prison, or whatever. They may not know what it is, but once they develop trust in you, then the door is open to help them find out."
Today you can find Ken hard at work, planting and nurturing seeds Monday through Wednesday in front of our welcome desk. When we asked what keeps him coming back, he told us, "It's just seeing people get restored. I mean, I see it every day. Anytime I have a chance to glorify God, and what He's doing, I'll take it. I think you'd be silly not to take advantage of that."