Carlos had been homeless and living out of a bottle for five years. Then one day, walking down the street, something caught his eye. A man on the opposite corner was digging through a brown paper bag. What he pulled out, Carlos would credit years later with saving his life:
A sandwich.
"I was hungry," Carlos remembers. "When I asked him, 'Where did you get that?' he pointed to Gospel Rescue Mission."
Carlos didn't know we had clean beds for the asking. He had no idea we offered a free recovery program or any number of other resources designed to help him get off the street. All he knew was that we had a sandwich waiting for him. That was enough to get him moving – and to change his life.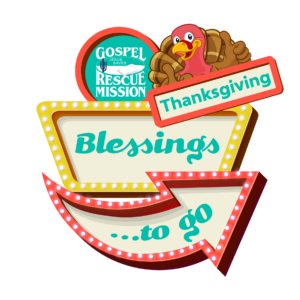 Hunger is a powerful motivator. Sometimes, it's all God needs to reach a family struggling to put food on the table… a lonely senior citizen who can't make ends meet… a homeless man in search of a sandwich… to make the connection that changes everything.
We'll be here for all of them — with your help at Thanksgiving Blessings to Go!
This year, once again – to keep our Gospel Rescue Mission family safe – we'll serve hearty Thanksgiving meals "drive-thru style" to our neighbors in need, and connect them to resources that transform lives.
It's so rewarding to see and experience the sheer joy our guests have when they know that people care about them when they receive a meal! Here are some comments from a previous Blessings to Go event:
"Thank you to Gospel Rescue Mission for providing us with food at a time when we really need it!" – Shari K.
"We thought everything was okay a few months ago. Now, we are where we are — but we're going to make it through, thanks to people like you. Thank you so much!" – Katie S.
"Me and my four kids have come here twice now, and it's been a huge blessing with the [job] hour cuts that we've had. Thank you guys for everything!" – Laura V.
"I would just like to thank Gospel Rescue Mission for helping us out in our time of need. We're out of work, so it's been a struggle to feed two children. It's been difficult with everything that's been going on." – Carmen S.
"All this stuff that's been going on, it's hard — it's hard. It's scary. You guys are really helping. We thank you so much!" – Henry H.
We pray that God will once again use this event to touch lives, to meet needs, to bring families and individuals back from the brink and put them on solid ground.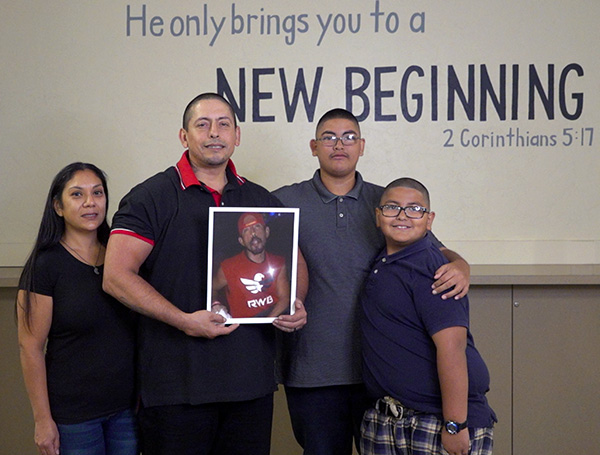 "They had a bed ready for me about 15 minutes after I got there," Carlos remembers. "I joined the recovery program and it changed my whole perspective. The blinders left my eyes and I saw what I had become, a drunk and an addict, but I didn't have to be that anymore. From sandwich to salvation… who knew?"
This is the power of your generosity. Lives are touched and transformed. People connect with the power of God's love. It starts with your gift — and God takes it from there. So today, as we start preparing for our Thanksgiving Blessings to Go event, I ask you to be part of it.
With your help, lives will be changed, even saved, this Thanksgiving.
"If I hadn't gone for that sandwich that day, I'd be dead… no doubt," Carlos admits. "I was on the way there. There would be no way I'd be talking about all this right now. It was a God thing!"
Give generously today. Every $3.02 you give provides another safely delivered Thanksgiving "feast" for someone in need. Your tax-credit eligible contribution of $30.20 will feed 10 hungry people. A gift of $60.40 will feed 20. Maybe you could give $90.60, to feed 30 hungry men, women, and children. Maybe you could give even more. Whatever you give today, lives will be changed.
And don't forget, your donation can also turn into a credit for you at tax time. The Arizona Charitable Tax Credit lets you donate essentially for FREE: you can give up to $400 if you file singly, or $800 filing jointly, and get a dollar-for-dollar credit – not a deduction – against your 2021 taxes. There's more information on the enclosed page. All the more reason to be extra generous today!
One more request. Please pray that word of this event would go far and wide, and that each person attracted by the promise of a free meal would find hope and transformation waiting for them at Thanksgiving Blessings to Go.
Please let me hear from you soon. Thank you so much!
Thanking God for you,
Lisa Chastain
Chief Executive Officer
P.S. Time is short. Thanksgiving is around the corner. Please respond quickly. Thank you again!