Thousands are out of work, but your support is making a way.
Back in February, everything seemed to be looking up for David. He had a steady job at the American Legion, a great roommate to help pay the bills at home, and he was even making some extra cash working janitorial at the post.
Then everything changed.
"Just like that, the CDC shut us down. They (the Legion) let everyone go. But it wasn't just me. Pretty soon, my roommate lost his job too, and went to live with his parents. I couldn't afford the rent on my own. I had no place to go."
Like so many others, David never got COVID-19, but the virus still managed to devastate his life. When things seemed their darkest, you helped change everything – by giving him a gift that keeps on giving.
"I knew I had to leave, but I had no place to go," David recalls. "I was homeless for a while, living here and there. I couldn't think or breathe, eat or sleep. It was terrible. I had lost everything for something I didn't do. I was devastated. Then I heard about Gospel Rescue Mission on TV."
For the first time in months, David caught a glimmer of hope. On September 8th, he walked through our doors and found a priceless gift from you waiting for him.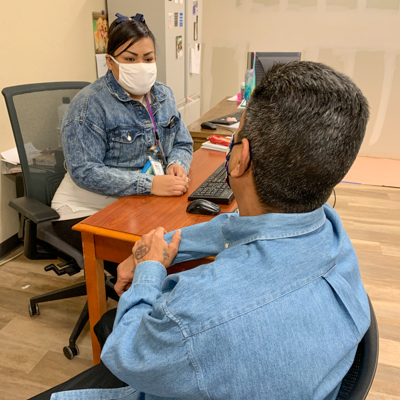 "They gave me a place to stay, they fed me, they gave me clothes, and they housed me. They brought me in, not knowing who I was or anything about me. They accepted me here."
But even though David was safe and fed, he was still unemployed. That's when, through your support and prayers, you gave David another early Christmas present.
"I had never used a computer in my life. I don't do the internet or computers. Jeanette, the advocate for the workforce, taught me how to get on the computer and draft emails and how to create a resumé, how to send it and print it. She taught me all of that. That's how I got online and got a job."
Even in the midst of times like these, David was able to find a full-time position with his newfound skills. That was a couple months ago. Today, we're proud to report that David is back on his feet and moving into a new apartment.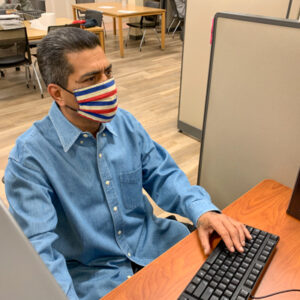 "It's beautiful because, during COVID, nobody was hiring. Then I was able to get a full-time job, and now I have my own apartment; I'm very thankful. It's a beautiful thing!"
Giving someone a fish is one thing, but teaching them how to fish is another. God continues to bless the efforts of the men and women we serve who are looking for work. Every month, more and more like David are finding a way back, thanks to friends like you – even during these tough times!
Thank you for giving a "gift that keeps on giving" this season by helping someone like David find stable employment. On behalf of all of us here at Gospel Rescue Mission, we wish you and yours a very Merry Christmas!