To say that Cora has had a rough life is an understatement. Just a few years ago, she was penniless, homeless, and caring for a six-month-old, all at the same time.
"I was pushing a stroller in the street. It was terrifying. We were constantly moving from place to place. That fear of not being good enough, in the eyes of society, to care for my son kept me in a really dark place. I told myself that God gave me this child; there had to be a reason. But I kept us on the outskirts because I was afraid that if I asked for help, I'd be judged as unfit and I would lose my son."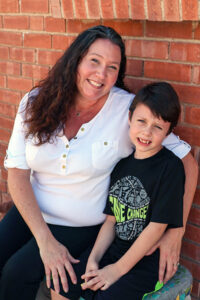 When what she feared most came true, it was a blessing in disguise. Instead of being controlled by the fear of losing her son, she became empowered by the task ahead – earning back the right to care for her son. She looked to Gospel Rescue Mission for help.
"They tapped me into the resources that I needed – not only God, but community and fellowship in general. There was no judgment; it was complete anonymity. The whole place is set up for reunification and restoration, and not just for our physical circumstances, but for our spiritual as well."
Thanks to your love and support, Cora found restoration through recovery, and with it, she earned back the custody of her son. Now she's looking for a way to give back, to help others, and plans to apply for the Fitzgerald Scholarship Fund.
Cora's goal is to become an American Sign Language Interpreter and help hearing-impaired and deaf men and women find the same kind of hope and recovery she experienced.
"Five years down the road, I'd like to be working for the state or for the Arizona School for the Deaf and the Blind, taking it a step further when it comes to recovery and spreading the gospel," she says.
"With everything I've learned here, and with the relationship I have with God and with my sisters here in the community, I'm definitely on a new path. I've put my trust in Him that doors are going to open and that He's going to have that next step ready for me and it's all going to work out okay. My son and I are going to be all the better for it."